Learn how to make this luscious strawberry cheesecake bowl. This recipe is great for a party as it can be made and chilled the day before. I hope you'll enjoy this creamy recipes.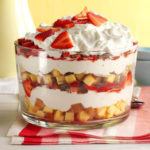 Ingredients
1 ounce Semi-Sweet Chocolate

1-1/2 cups cold milk, or more has needed

2 cups (1 inch) frozen pound cake cubes

2 cups thawed cool whip lite whipped topping, divided

3 cups sliced fresh strawberries

3 tablespoon sugar

3.4 oince Jell-O Vanilla Flavor Instant Pudding

8 ounce each Philadelphia Neufchatel Cheese, softened
Instructions
1. Mix berries and sugar. Refrigerate until ready to use. Beat Neufchatel in a large bowl with a blender until creamy. Slowly beat in the milk. Add the dry pudding mixture; Mix well Mix in 1-1 / 2 cups of COOL WHIP; Spoon in half in 2-1 / 2-quart. bowl
2. Cover with cake, berries and leftovers from the Neufchatel mixture. Refrigerate 4 hours.
3. Melt chocolate; sprinkle on the little things. Cover with the rest of Cold Whip.