Learn how to make no bake mocha icebox cake. This creamy cake recipe is simple and easy to make. I hope you'll enjoy this luscious icebox cake recipe.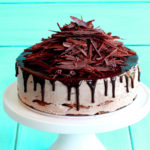 Ingredients
* 1 chocolate sauce

* 1 chocolate shavings

* 1 teaspoon vanilla bean paste

* 2 tablespoon cocoa powder

* 2 shots espresso shots

* 3 tablespoon sugar

* 4 tablespoon mascarpone

* 200g dark chocolate

* 200 ml coconut oil

* 500g choc chip cookies

* 700ml thickened whipping cream
Instructions
Chocolate Shavings:
1. Add the chocolate to a large microwave-safe bowl. Microwave for 20 seconds at a time, mixing each time, until smooth.
Cake:
2. Add the oil and mix until well combined.
3. Pour the chocolate on the back of a flat baking sheet. Let stand at room temperature.
4. Use a large knife or scraper to scrape the chocolate. It rolls into fragments as you scrape it. Set aside.
5. Add the cream, espresso, vanilla paste, sugar and cocoa powder in a large mixing bowl. Use a hand mixer to beat gentle peaks. Add mascarpone and beat to fill peaks.
6. Add a layer of chocolate chip cookies to the bottom of a flat, 8 ", spring-shaped mold. Break small pieces of cookies to fill in the gaps.
7. Add 1/4 of the cream on top and use a small spatula to disperse.
8. Repeat 3 times. Cool in the fridge overnight.
9. Carefully remove the cake from the spring molding tray.
10. Sprinkle with chocolate sauce and add chocolate curls on top and cut into slices to serve.