Learn how to make a delicious honeycomb cake. This cake is made with a baking powder, baking soda, cocoa, flour, sugar, and salt. I hope you'll enjoy this cake recipe.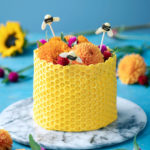 Ingredients
1 cup sugar

1 teaspoon salt

1 teaspoon baking powder

1 ½ cups all-purpose flour

½ teaspoon baking soda

⅓ cup cocoa powder

¾ cup butter, softened at room temperature

¾ cup sour cream at room temperature

2 large eggs

2 teaspoons vanilla extract

3 cups buttercream, tinted yellow

For the chocolate honeycomb:

2 feet small bubble wrap

2 cups yellow candy melts
Instructions
Make the chocolate cake
1. Preheat the oven to 350 degrees. Line up two 6-inch cake pans with baking spray and parchment paper.
2. In a large bowl, combine the flour, sugar, baking powder, baking soda, salt and cocoa. Using a hand mixer, mix the butter, eggs and vanilla in the dry mix. Fold in the sour cream. Pour the mixture into the molds and bake for 25 to 30 minutes until each cake is placed, and a toothpick comes out clean. Remove the cakes from the trays and allow them to cool completely.
3. Once the cakes have cooled, about 3 hours later, divide them in half. Place 1 half of the cake on a turntable and place a quarter cup of frosting on top. Soften, and repeat with all the other layers. Completely cover the cake with glaze and place it in the refrigerator to set.
Make the bubble honeycomb
4. Measure the bubble wrap so that it fits the sides of the cake firmly, and about 1 inch higher than the cake. Unravel, and place with the bubble up.
5. Gently pour the melted caramel melts over the bubbles and soften, working quickly, spreading evenly over the entire piece. Let the chocolate settle at room temperature. You will know when you will be ready when you can touch it without leaving a mark.
6. Remove the cake from the refrigerator. Carefully wrap the chocolate band around the cake. Slowly remove the bubble wrap that adheres to the candy. Repeat on another sheet to decorate the top of the cake with honeycomb.