Learn how to make this delicious avocado stuffed chicken. This recipe that I hope gets passed down. Everyone seems to like it. This chicken recipe is simple and easy to make with chicken breasts, fresh basil leaf, lemon pepper, and garlic powder. I hope you'll enjoy this luscious avocado recipe.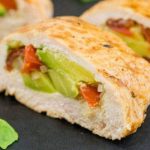 Ingredients
1 teaspoon lemon pepper

1 teaspoon garlic powder

1 large tomatoes, seeded and diced

1⁄2 cup onion, chopped

1⁄2 cup fresh basil leaf, minced

2 tablespoons peppercorns, freshly ground

2 avocados, peeled, pitted & sliced

3 tablespoons lime juice

4 boneless chicken breasts skinless
Instructions
Place the chicken breast on a flat work surface and mix all remaining ingredients together except peppercorns.
Reserve half of the mixture and divide the remaining half into the chicken breast.
Roll up the breast and insert the ends. Place in a lightly oiled baking dish and sprinkle with peppercorns.
Bake in a preheated oven at 350 ° F for 45 minutes or until the chicken is tender.
Remove from the oven and cut each breast in half.
Put the avocados with the reserved mixture on the platter.
You can decorate the platter with lime slices, fresh basil, avocado slices, and small tomatoes.