Learn how to make this spicy and yummy sticky garlic shrimp. This recipe is simple and easy way to cook. I hope you'll enjoy this delicious garlic recipes.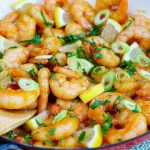 Ingredients
salt

pepper

sesame seeds

lemon slices

cooked brown rice (to serve)

1 tablespoon reduced-sodium soy sauce

1 teaspoon fresh ginger, minced

1 tablespoon olive oil

1 spring onion

1/4 teaspoon crushed chili flakes (optional)

3 cloves of garlic, minced

3 tablespoons honey

1400g uncooked shrimp, peeled & deveined
Instructions
Whisk honey, soy sauce, chili flakes (if used), ginger and garlic, mix in a medium bowl. Put aside.
Add shrimp and olive oil in another medium bowl. Season the shrim with salt and ground pepper and mix.
Heat the pan over medium-high heat. Place the shrimp into the pan. Cook the shrimp on one side until they seared, about for 2 minutes.
Turn over the prawns and cook for a minute or until cooked, but slightly more translucent in the middle.
Pour in the honey garlic marinade and cook until the shrimp is ready for about 1 minute more.
Add chopped spring onions and sesame sseds.
Add lemon slices.
Serve the shrimp with reduced sauce over rice. Enjoy it!