Learn how to make a no bake peanut butter chocolate cheesecake. The combination of nutty peanut butter with decadent chocolate. This recipe is delicious and simple to make. I hope you enjoy this peanut cheesecake recipe.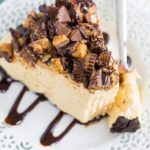 Ingredients
For the base:

* 7 tablespoons (100g) melted butter

* 9.5 ounce (270g) biscuits/cookies

For the filling:

* 1 cup (250g) peanut butter

* 1 teaspoon vanilla extract

* 1/2 cup (120 ml) heavy cream

* 1½ cups (187g) powdered sugar

* 2 1/3 cups (525g) cream cheese

For the chocolate ganache:

* 2/3 cup (160 ml) heavy cream

* 4.4 ounce (125g) dark chocolate
Instructions
1. In a food processor, process the cookies until crumbs are formed. Add the melted butter and process again until they are mixed. Press on the bottom of the 9-inch (23 cm) spring-shaped pan. Refrigerate while filling.
2. In a large bowl, mix cream cheese and powdered sugar. Beat until smooth and creamy. Add the peanut butter, the vanilla extract and beat again until smooth and creamy. Add the thick cream and beat 2-3 more minutes until smooth.
3. Pour the cheesecake mixture into the springform pan. Refrigerate at least 6 hours or overnight. You can also freeze the cake.
4. Prepare the ganache: in a small saucepan, simmer the thick cream, remove from the heat and add the chopped chocolate. Let stand 1 minute and stir until the chocolate has melted and the ganache is soft.
5. Let cool a little and pour over the cheesecake. You can pour it directly into the mold of springform or open it and then pour the ganache.
6. Refrigerate at least 1 hour before serving.