Learn how to make this yummy mini peach cobbler. I'm sure that you could substitute apples for the peaches. You can add your favourite fruit to this recipe. Everyone seems to like it. I hope you'll enjoy this luscious and delicious mini peach cobbler recipe.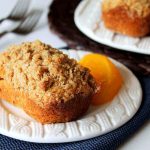 Ingredients
1 cup flour

1 cup sugar

1 dash salt

2 cans cinnamon, to taste

2 cans brown sugar, to taste

2 cans (8 ounce each) diced peaches

2 teaspoons baking powder

3/4 cup milk

4 tablespoons melted butter
Instructions
Preheat oven to 375° F. A set of cupcake cups with cupcake liner sizes and add 1 teaspoon of melted butter on the bottom of each liner.
Mix sugar, flour, baking powder, salt and milk by hand. Add 2 tablespoons of batter inside on top of the melted butter in each cupcake liner.
Add 1 tablespoon of diced peaches on top of the batter in each tin. Sprinkle with cinnamon and brown sugar.
Bake for 20 minutes. Allow the peach cobblers to cool almost completely before removing them from the pan.