Learn how to make a mango cheesecake. This cheesecake recipe is simple and easy to make. This recipe is a complete and utter celebration of summer. I hope you'll enjoy this cheesecake recipe.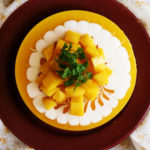 Ingredients
Cheesecake:

1 tablespoon lemon juice

10 grams powdered gelatin

50 grams sugar

50 milliliters mango juice

150 grams frozen mangoes

150 grams heavy cream

150 grams cream cheese

Mango gelatin:

3 grams powdered gelatin

80 milliliters mango juice

Decoration:

Fresh herbs

Heavy cream

Mango chunks

Crust:

10 small coconut cookies or biscuits

30 grams butter, melted
Instructions
1. Place the coconut cookies in a zip-lock bag and crush until it resembles coarse crumbs. In a bowl, combine ground cookies and melted butter. Pour the cookie crumbs into a cake pan and press down with a back of a spoon to create the crust. Put in the refrigerator to let the crust rest.
2. Combine all the ingredients for the rare cheesecake in a blender and mix until smooth. Pour the mixture into the cake pan and keep it in the refrigerator until it is ready.
3. Combine the ingredients for the mango gelatin and mix well. Pour this mixture over the rare layer of cheesecake. Pour some cream on top and decorate. Put it back in the refrigerator to let it sit.
4. Garnish with pieces of mango and herbs.